World's Softest Pashmina for You!
"Pashmina" Journey To Luxury
The most refined hand-weaving technique of transforming cashmere wool into rich, Pashmina has now found a place in our wardrobes. Considered to be the royal symbol, back in the 15th century, this opulent accessory slowly became widely popular. At Pashmee, we believe luxury starts with comfort. While you are wrapped in the warmth of Pashmina and enjoying its exotic nature, what also matters is how good you feel wearing it. The craftsmanship of our pashminas is such that artisans put in all their creativity to curate that finest piece for you. The rich embroidery and subtle design with intricate art language add to the elegance of each wrap.
Layers of love
Embroidery Adorned Pashmina
The Pashmee collection is crafted carefully, keeping in mind the latest trends while also focusing on the rich traditional work of Pashminas. Each piece that you buy online is meticulously worked, and hand weaved in by the artisans of Kashmir. These are unique, and you will instantly resonate with words like elegance, beauty, and Indian art because we believe in making perfection and delivering the epitome of beauty at your doorstep. Each drape made in our brand name is dainty and light, and you will rejoice in its comfort and charm.
Pure & Soothing
100% Authentic Pashmina
The Pashmee believe in customer delight. Pashmina being the most luxurious accessory, we curate royalty that you can wrap around your body and feel its warmth. The stunning handwork of the resplendent Pashminas is a perfect way to make a style statement. Be it for work hours or decking up your traditional ensemble, this accessory has become the definition of class. This cherished fabric is no more just for royalties. Still, its iterations and versatility are such a symbol of luxury while also a silhouette that we can do on days our ensembles look dull.
The Beauty Of
Kani Pashmina Shawls
Kani pashminas are ethereal treats for our style. The intricate pattern work and the mindblowing color palette make these shawls is impeccable. This art is done with sticks of wood named Kanis, and then colorful wefts are used to curate the designs on the shawl. The style is extraordinary, and when made in pure fabric, it adds more allure and sheen to the piece. They are made with a high concentration and can take time and patience to be curated due to their complexity in designs and work.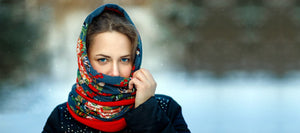 Our Artisans
Our weavers are our backbone. We work with them closely to bring you the finest pashmina pieces. Pashmee's fair-trade system ensures trading for the better while maintaining users' interests.
Pashmina: The Example of Luxury Cashmere Fashion
From Kashmir to your doorstep, we deliver luxury made from the finest cashmere and then spun into stunning pashminas. The word 'pashm' means wool, obtained from domesticated changthangi goats. The weavers of Kashmir translate the beautiful yarn into a long array of intricately done embroidery on shawls, scarves, throws, and wraps. Get ready to discover our mesmerizing collection and let your wardrobe speak volumes about class and luxury. When you wish to give your ensembles a touch of Indian ethnicity, our fresh looks of Pashmina shawls and other accessories will come to your rescue. All these styles will let you dwell in their graceful luxury, and you will end up asking for more. Since making Pashminas is exquisite art, we take pride in our designs.
Handloom Pashmina Art by Pashmee
The lightweight and dainty Pashmina shawls are handcrafted, and with a long process, the finest luxury is converted into an undeniable silhouette. We, at Pashmee, curate these pashminas with utmost precision and care. We make efforts to make authentic items that feel soft and comfortable against the skin. We also don't compromise on the quality, and since the pashmina craze has been there for centuries, we make sure you are more than happy to wear our brand. To put it simply, we make the softest fabric of your dream so you can slay in style and garner a lot of appreciation for your fashion sense. Our each & every shawls portray traditional pieces in the form of luxury and add elegance to the Pashminas. Moreover, these shawls are hand woven and are so lightweight. The patterns are so eye-catching and a magical creation straight from the artisans that you would love to don them. The quality of craft is maintained, and its prominence is high in the local and international markets.
Pashmina That Matters
Rooted in the art of traditional Pashmina, the accessories promise unique designs with excellent work on them. That's why we call our styles opulent. Pashminas are known for their power and royalty. Being a symbol of prestige, this regal luxury comes in various patterns and colors. The fashion connoisseurs wear our brand with pride. At Pashmee, high quality is the benchmark you will witness in each style. Be it a scarf or a shawl, the contemporary sensibilities added have grandeur and luxury like never before. The brand also considers different age groups. Hence, there's a unique style for every customer of ours. Become a part of our luxurious journey and see how we elevate your style quotient with our incredible collection. Pashmee endeavors to infuse a contemporary touch into traditional art. Our wide array of styles will match your wardrobe for a luxe look. So get ready to choose your fave because these accessories guarantee hand-designed warmth and comfort.